Lately, in Corinna...
December 18, 2000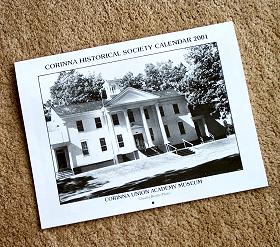 The Corinna Historical Society is announcing the sale of its 2001 calendar featuring selected photographs representative of Corinna's past. This fourth historical calendar is a fund raiser for the society's projects at the Corinna Union Academy Museum.

To order a calendar, send your Name, Address, Town, State and Zip Code to Everett Simpson, 88 Pleasant Vale Road, Corinna, ME 04928. Calendars are $5.00 each plus postage, $1.50 for one and $2.50 for 2 or more. Make checks payable to Corinna Historical Society. Calendars are also available some local businesses.

Next | Previous | Homepage | Archive