Lately, in Corinna...
October 10, 2000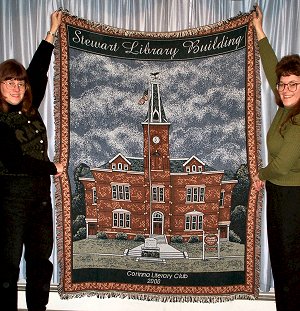 Here you see Fawn Condon and Dawn Davis Smith holding up a beautiful cotton coverlet with a picture of the Stewart Library Building woven into the material. The Corinna Literary Club is selling these 48" by 68" coverlets. They are woven in a process that combines the detail of tapestry with the softness of 100% cotton. They are made in the USA, machine washable, preshrunk and colorfast. I must tell you, they are beautiful!

The price for each coverlet is $40.00, plus $6.00 if you require shipping. To order a coverlet send your name, address and phone number along with a check or money to:

Dawn Davis Smith
P. O. Box 88
53 Stetson Road
Corinna, Me 04928-0088

Note: Due to the heavy demands of the holidays the Literary Club cannot promise delivery before Christmas.

Next | Previous | Homepage | Archive