Trees At the Stewart Library Building
July 16, 2001


For an historical perspective regarding trees around the Stewart Library Building lets look at some old photographs. These are from Peter Smith's collection of postcards and photos of Corinna. The picture below must have been taken shortly after the building was completed in 1898.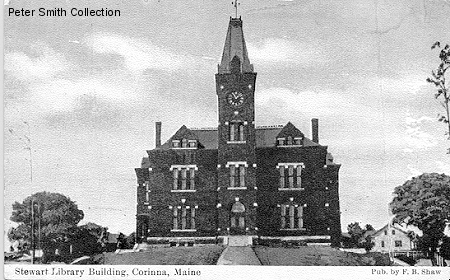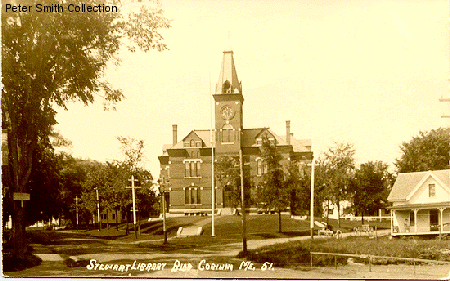 This picture looks to be about 10 years later. The elm trees that were planted on the lawn are now evident.



Here we see the building considerably later, after the monument was placed at the foot of the front walk.

The elm trees grew and framed the building well. The nice thing about elm trees is they have tall trunks and a crown that is high above the ground. I feel sure that this is the way Levi Stewart wanted the building to look. I'm sure he chose elms because the leaves would not block the view of the building.

I remember when these elms were removed, not that long ago. They were killed by Dutch Elm Disease. Maybe we can't replant elms but there are other trees that will grow the way the builder originally intended.






These picture were taken in May of this year. The first two trees hide most of the building from view. The maples currently on the lawn were planted after the elms were removed. They haven't been there very long. They were planted sometime after I graduated from high school. It's time to restore this building to the way Levi Stewart wanted it to be. The maples should not have been used. They should be removed and replaced with appropriate trees that fit the intent of the builder.