Cobbie and Lilla Eaton own the property where the falls is located. Lilla tells me that she has known the stream as Meadow Brook. In our conversation I described Peter's post card. Lilla says that Barker Brook is a likely older name because a man named Barker once owned land up-stream of the falls. She says he was a poet and suggested that members of the Corinna Literary Club might know more about him. Do you suppose this is a picture of Mr. and Mrs. Barker?

The F. B. Shaw named on the postcard is Flavil B. Shaw. He ran a store in what was Pearson's Store on the corner of the Exeter and Stetson Roads. He took over the store in 1907. So the photo was probably taken some time after that.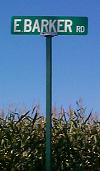 Peter knows that his grandmother, Ethelyn Skinner Smith, came from Exeter and is related to the Pease and Barker families. They lived near the Chamberlain Cemetery, not far from the town line. Another clue, about 500 yards further along the Exeter Road from the falls you will find the East Barker Road.
After Peter sent his picture I went back to the falls to see if I could re-create the view. Julie went with me but I couldn't get her to wear a hat and sit on a log like the woman in the post card photo. Take a look below. What do you think? Is it the same place, 90 years later?