In the summer of 1999, the Corinna Union Academy building was handed over to the Corinna Historical Society. The society plans to convert the century and a half-old building into a museum. This week, an article in the Bangor Daily News by Sharon Mack describes the first display the museum will house.

Ed Leavitt, a local barber for 54 years, has donated his 100-year-old barber chair and other shop equipment for a faithful recreation of Edís Barber Shop.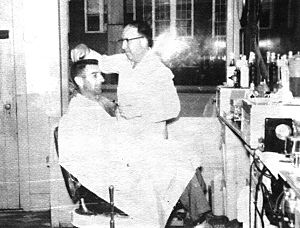 Darrell and Linda Henderson donated another barber chair that was in the cellar of their store. This chair was also in the shop Ed ran on Main Street for many years. It was used by barbers who worked with him, among them, Mike Pecorelli and Phil Burrill.
Ed and a few other residents who remember having their first haircut in Edís shop were at the museum last week as the display was set up.
Iím sure my first hair cut was in Edís chair. His shop was an interesting place. There was always a copy of Life magazine to look at while waiting. I remember the sound of a pendulum clock, ticking steadily, the combs in the jar of blue liquid and the smell of the powder he used when brushing the hair from your shoulders. The best part was listening to the men talk. They talked about music, hunting, fishing, stuff going on at the mill. It was often an education for a boy just to be there, quietly waiting for a haircut.