Main Street, 1999 and 1906
January 13, 2000
Click on each picture to view a larger copy.

1999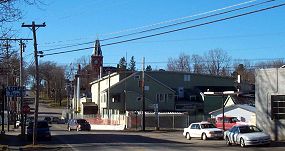 First, a recent picture of Main Street facing west. This was taken from the front walk of the Post Office in December of 1999.
1906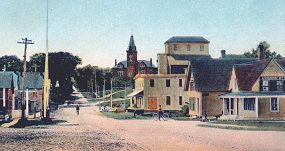 This wonderful picture is a copy of a post card from about 1906. (This date is my speculation.) The card, printed in Germany, was made from a photo of Main Street, looking west. On the north side of the street, the right side of the picture, the first building is the Corinna Hotel. At one time this hotel had 20 rooms and the capacity to seat 25 people in its dining room.
Next along the street, with the awning on the front and the high mill section, is the Ireland Brother's Grist Mill. This building was completed in 1905, replacing a previous mill building that burned in 1904. The East Branch of the Sebasticook River passes under the street just beyond the grist mill. Not long after this picture was taken, in 1907, the Odd Fellows Hall was built in the lot on the other side of the river. Of course, the Stewart Library Building in the background, has watched over the street since 1898.

Acknowledgements:
Postcard of Main Street, 1906 from Herbert Dow Jr. Collection
Other sources: 20th Century Corinna by William R. Sawtell, 1984. and
Corinna 175th Anniversary 1991, edited by Everett E. Simpson, 1992.