Main Street, 1999 and 1919
January 6, 2000
Click on each picture to view a larger copy.

1999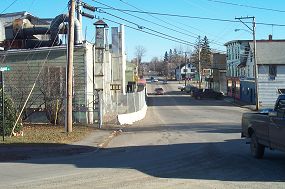 This photo of Main Street, looking east, was taken this Fall from the street in front of the Stewart Library Building. Notice the first building on the right. It is in the older picture below. Then comes the Odd Fellows Hall, over the river. Beyond that, an empty lot, then Henderson's Store. Beyond the empty lot where the Turner Block once stood, what used to be Pearson's Store is visible at the end of the street.
1919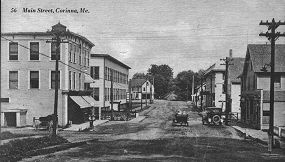 This is a copy of a post card from 1919. The photo is of Main Street, looking east. Three buildings on the left are the Odd Fellows Hall in its original location, the woolen mill, then knows as Corinna Manufacturing and John Gray's Store at the end of the street.
Four buildings can be seen on the right. The first is still standing today. Then notice the open area, the bridge. See the railing beside the parked automobile. Beyond that is another building that no longer exists. It may have housed a restaurant for many years. Next is the block, three stories at that time. Finally, part of Gilman Shaw's store (Pearson's Store) is visible at the end of the street. The opening beside the parked car is the location the Odd Fellows Hall was moved to in 1949.

Acknowledgement:
Postcard of Main Street, 1919 from Herbert Dow Jr. Collection