This is a photo my father took when this section was built. (Thanks, Dad.) He was standing straight back from the mill on the drained mill pond. The top of the Odd Fellows Hall shows just above the windows on the low section to the far right.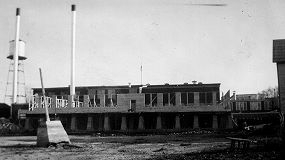 Click on this picture to view a larger copy.
Last month I was trying to get a picture that matched this view when I slipped on some ice, fell and broke two ribs. I'm okay now.
The cement piling on the left, with the pole extending up, would be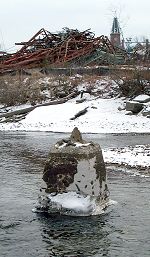 in the middle of the pond when the water is high. It, and a few others like it, were used to support cables that ran from the back of the mill up to the upper dam. The cables attached to a butterfly gate on the dam. This system allowed water flow from the dam to be controlled from a point at the back of the mill.
At least one of the pilings still exists. This picture was taken back in December when the water was low in the mill pond. It's not the same piling pictured above. This one is closer to the upper dam.