Calendar of Events - 2006 Season
Christmas in Corinna - 2006
The Levi Stewart Community Theater will present a Christmas variety show on December 2 and 3, 2006. The show will feature individuals and small groups performing Christmas songs, readings and skits.

The setting for the production will be the Stewart Library Building in Corinna, beautifully decorated for Christmas as it was last year. Come join us in this celebration of the holiday season. Don't just be in the audience, participate! Sing a Christmas song, gather a small group of family and friends and add your talents to the community celebration.

The first meeting for all those participating will be on November 19 at 2 PM, upstairs at the Stewart Library Building. The dress rehearsal will be on November 26.

For more information or to indicate you will participate, call Cyndie Dorman at 368-3352.


LSCT Projects in the Stewart Library Building


New Curtains for the Windows in the Auditorium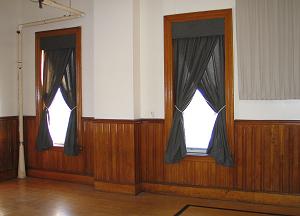 Improving the acoustics in the auditorium
The acoustics in the auditorium were poor. The room echoed badly making it very difficult to understand performers. We have improved the acoustics by mounting cloth in areas around the walls. The cloth can be put up and removed easily and with minimal impact on the walls. The cloth we used is the result of an extremely generous donation of material from Interface Fabrics of Guilford, Maine. We appreciate their support. The cloth will also be used to make new curtains for the windows in the auditorium and some other projects we have in mind. Support from businesses is very important to the success of local theater.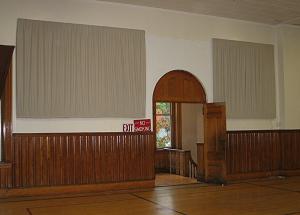 Side wall of auditorium


The Levi Stewart Community Theater (LSCT) traces it's beginning from "George Washington Slept Here", a play produced at the Stewart Library Building by the Corinna Literary Club in 1982. Shortly after, area residents formed the theater group. Many people from Corinna and surrounding communities participated as the group produced twelve successful shows from 1983 to 1990. The group has reorganized to once again produce plays and provide an opportunity for residents of all ages to participate in the tradition of local theater.
Previous Productions
The Cat In The Castle - July 2003

The Plotters of Cabbage Patch Corner - June 2004

See How They Run - November 2004

Christmas in the Good Ole Days - December 2004

A Patriotic Salute - May 2005

The Robin Hood Caper - October 2005

Murder at the Midnight Hour - September 2006
Drawing of Levi Stewart by Wendy Brown